Welcome to PAM Project Home Page
PAM (2001 - 2005) was a project funded by the European Commission under the IST Programme.
What was it about?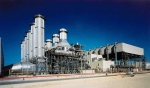 PAM aimed to provide new control benchmarking tools and demonstrate their effectiveness in assessing the performance of controllers used in manufacturing or process plant. The goal was to improve the control of processes, learning from the best in the field measures or metrics.
The performance measures can be calculated from normal operating data. Once such a tool has been used to identify a shortfall in performance, the control system can be re-tuned.
What were the specific objectives?
Summarise recent advances in performance assessment and controller re-tuning techniques
Implement benchmarking on industrial SCADA systems and in a standalone software environment
Organise control benchmarking training workshops and courses
Provide Internet site for self-study of control benchmarking
Who were involved?
Deliverables
Control benchmarking theoretical report
MATLAB software modules for benchmarking
Industry simulation case study report
Four workshops/courses on control benchmarking
Control benchmarking learning centre