Welcome to the Rolling Mill Academy
11th International Rolling Mill Academy - Advanced Control
ISC, the leading industrial controls consultancy and training company, and Converteam, the leading global power conversion specialist, are pleased to announce details of the next event of the rolling mill academy series.
The 11th Academy will be managed by ISC. The event will focus on advanced rolling mill control and technology, and how improved control can provide a competitive advantage through greater reliability, robustness and performance.
11th International Rolling Mill Academy
ISC is pleased to announce details of the International Rolling Mill Academy - Advanced Control. It builds on the success of ten prior courses. These meetings were held at various locations around the world and attended by more than 200 delegates from 50 companies and 25 countries.
The course introduces rolling mill engineers to state of the art control theory and practices in hot and cold mills with emphasis on product quality and cost optimisation. The focus of the course is on control design for thickness, width, profile, flatness and temperature. The potential of advances in multivariable control, predictive control, condition monitoring systems and mill simulations will be discussed.
The lectures will be given by leading international experts in hot and cold mill control systems. As well as providing an in-depth understanding of the theory they will also explain the practical issues of implementing rolling mill control systems.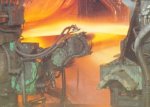 Every day there are practical sessions with interactive demonstrations on PC's which will allow the delegates to explore the control principles behind the presented techniques. The wide range of subjects covered in the practical sessions will enable the delegates to focus on their own interests. Numbers on the course are restricted to ensure each delegate receives individual attention. Early registration is advisable.
Target Audience
Electrical and mechanical engineers
Technical Engineers working in the metals production and processing industries
Design engineers wishing to refresh their control engineering knowledge
Managers requiring an up-to-date overview of quality-improving technology