Pumping and Waste Water Treatment
Consultancy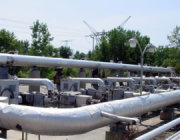 Today the water industry is focused on reducing energy costs for both pumping and waste water treatment applications.
ISC's dynamic modelling and control capability can be used to investigate potential energy savings through the use of improved control or changed operations or calculate return on investment for capital expenditure on items such as variable speed drives. ISC has its PumpSim toolbox for modelling and energy efficiency studies of pumping applications.
As ISC is not allied to any supplier of equipment our studies are based on forecasting attainable energy savings, rather than driving equipment sales.
ISC also run an annual Process Control Academy training event.
Our clients include Scottish Water, Anglian Water, Severn Trent, and Yorkshire Water.
Example Projects
Water Pumping Energy Savings

- Use of dynamic models to accurately estimate potential energy savings through changes to plant (e.g. variable speed drives) and operating regimes (e.g. pump scheduling, level setpoints). (Download presentation)

Aeration of Waste Water

- Coupling of models of waste water treatment plant (WWTP) and compressors to determine possible energy savings through changes to control.

Paper Mill VSD energy audit

- An audit on the use of variable speed drives to replace throttled valves was undertaken for all large pump / motors at a paper mill. This resulted in the development of template calculations for application across the various mills operated by the client company. (Download project note)

Redesign of a Water Condition Plant

- A paper mill needed to reduced its effluent, a proposed system to recycle gland sealing water was modelled and dynamic variations on water temperature were assessed. (Download project note)
News and Events
Training Course: Optimisation and Model Predictive Control for Linear Systems, 20th & 21st November 2018, Glasgow
Industry-Specific Training
We can adapt individual courses to suit your company's industry/business. (Examples)
Looking for control improvement?