Control Design
The development of effective feedback control strategies is a core skill of ISC engineers. A proper assessment of the process as a whole is undertaken, including effects on neighbouring/coupled systems and processes. Control objectives, disturbances, nonlinearities, uncertainties, robustness and noise immunity are all considered when a control strategy is developed. Solutions can range from simple classical feedback or feedforward to advanced control, such as model-based methods like MPC or methods like Fuzzy Logic control. However, simplicity is a key objective in our solutions, providing performance criteria can be met.
Many of ISC's control design projects involve the development of a nonlinear dynamic model to assess effectiveness in simulation. This allows the new control solution to be compared against the existing to quantify benefits, and then be deployed with confidence.
Constrained Optimal Predictive Control
ISC has experience with a range of predictive and other advanced control algorithms and software packages, varying from the standard MATLAB Model Predictive Control Toolbox to our own advanced tools for nonlinear MPC (NMPC) and nonlinear generalised minimum variance (NGMV) control.
"Simplicity is a key objective in our solutions, providing performance criteria can be met."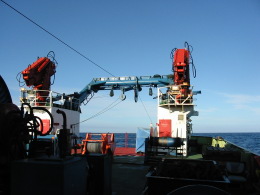 What We Provide
ISC provides clients with control design service and full implementation using the National Instruments series of hardware targets for LabVIEW (e.g. CompactRIO and FPGA, PXI). Where full implementation is not required, we can offer implementation support to the client.
Read here for two case studies in control design ISC undertook for Houlder Ltd :
Example Projects:
Advanced Control for Wind Turbines

- ISC have investigated advanced predictive control for variable-speed variable-pitch wind turbines, using both simplified physics-based models, linearised models from Bladed and full aero-elastic Bladed models. The objective was to increase the power output and reduce the fatigue loads of the turbines simultaneously. The full range of below- and above-rated wind speeds was covered by predictive control, including the important transition zone between the torque control and pitch control modes around rated wind speed.

Design, Development and Implementation of Control System for Motion Compensated, Hydraulic, Offshore Wind Turbine Access System (TAS)

ISC was initially contracted to assess the performance attainable for a hydraulically actuated gangway, when compensating against boat motions. This involved modelling the various sources of errors – from sensing, actuation and control performance – to achieve the target performance whilst minimising cost and complexity. ISC were then engaged to implement the entire control system, which included MMI using touch panel computers, real-time control and I/O, solving kinematics, and extensive monitoring and safety logic. Full factory testing and Sea Trials were completed. (Download project presentation or watch Dr Andy Clegg's keynote talk at NI Week 2012)

Predictive Engine Control

- Model-based predictive control (MPC) was used for Spark Injection (SI) engines to handle constraints and compensate for actuator, process and sensor delays. Nonlinear models were required to represent the nonlinearities and event-based dynamics inherent to automotive engine systems. Linear Parameter-Varying (LPV) models were found to meet the requirements and were used within the Nonlinear MPC framework to control torque tracking, fuel economy, emissions and drivability. Model-based design procedures were used to validate the algorithms in simulation and to optimise them for real-time implementation, prior to the successful tests on the engine itself.
Looking for control performance improvement?